Hello and Happy 2022 from Vida Del Norte! We hope that everyone is having a great start to the new year. We wanted to send out a quick community newsletter to invite everyone to our annual retreat and give a brief update of some of the activities that Vida was involved in during the fall and before the new year. 
IMPORTANT NOTICE: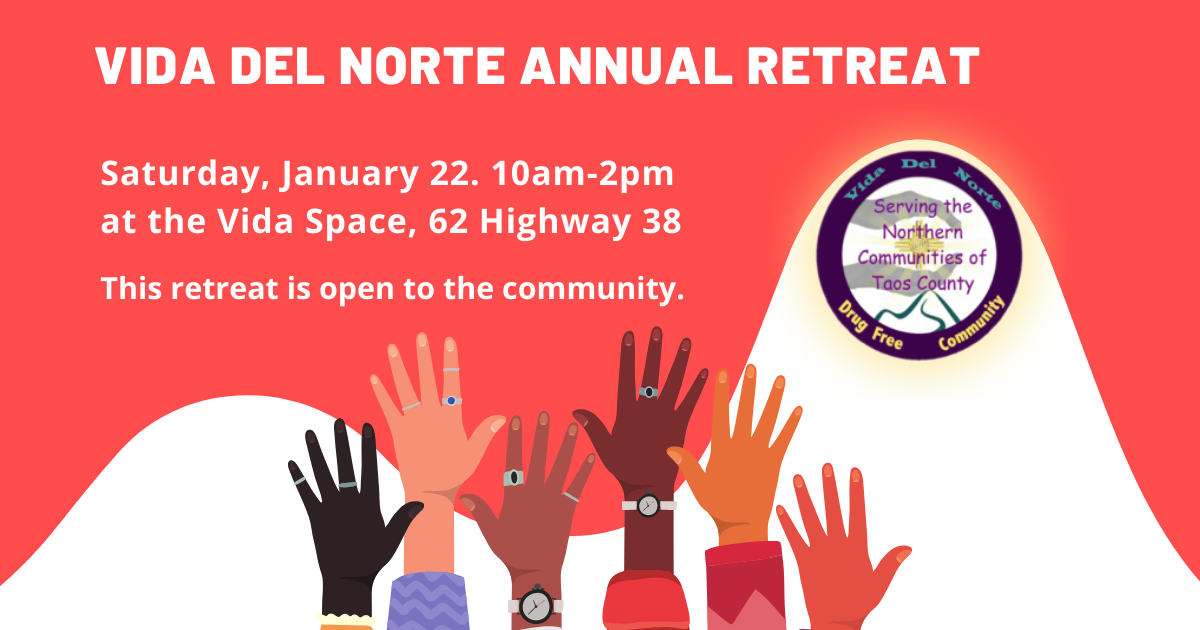 We want to invite all of you to attend our annual retreat which will be on Saturday, January 22 from 10am-2pm. The annual retreat is a time for people to get to know more about the goals of the Vida Del Norte coalition. The retreat is also a time to build capacity within the coalition, plan how we can work together to increase our impact preventing youth substance misuse in our community and get to know one another better. The retreat will be at the Vida Del Norte office in Questa which is #62 Highway 38, across from the Granite company's building. You can also attend the retreat online using Zoom. You can download the agenda by clicking here. We will be having a simple lunch and there will be coffee and snacks. We hope very much that you can attend and we also encourage you to
The Zoom info is:
https://us02web.zoom.us/j/83144115176
Meeting ID: 831 4411 5176

UPDATES
Please visit the links below to read more and see photos.
This year Vida Del Norte partnered up with other groups and helped to organize a truly memorable Red Ribbon Week in Questa. Through out the week the individuals involved in organizing Red Ribbon Week in Questa kept remarking that this was the best Red Ribbon Week yet. READ MORE and SEE PHOTOS
This holiday season, the Village of Questa partnered with the Vida Del Norte community coalition to organize the Evening of Lights which was held on December 4 in the village town center. During the Evening of Lights there was a tree lighting, a Christmas Tree tour, music, food, local craft sellers, a light parade and Santa even made a jolly appearance. READ MORE and SEE PHOTOS
Cool New Links
We have recently published a page with a list of interesting webinars about substance misuse, recovery and wellbeing. We also recently created a page to showcase videos, articles and webpages about youth leadership. We encourage you to visit the links below for some interesting and informative content when you have spare time. These are evolving resources and new links will be added to them in the future.  If you happen to come across any videos or websites that should be added to any of our resource pages please send the links to Rachel Kuc' at: media@vidadelnorte.com