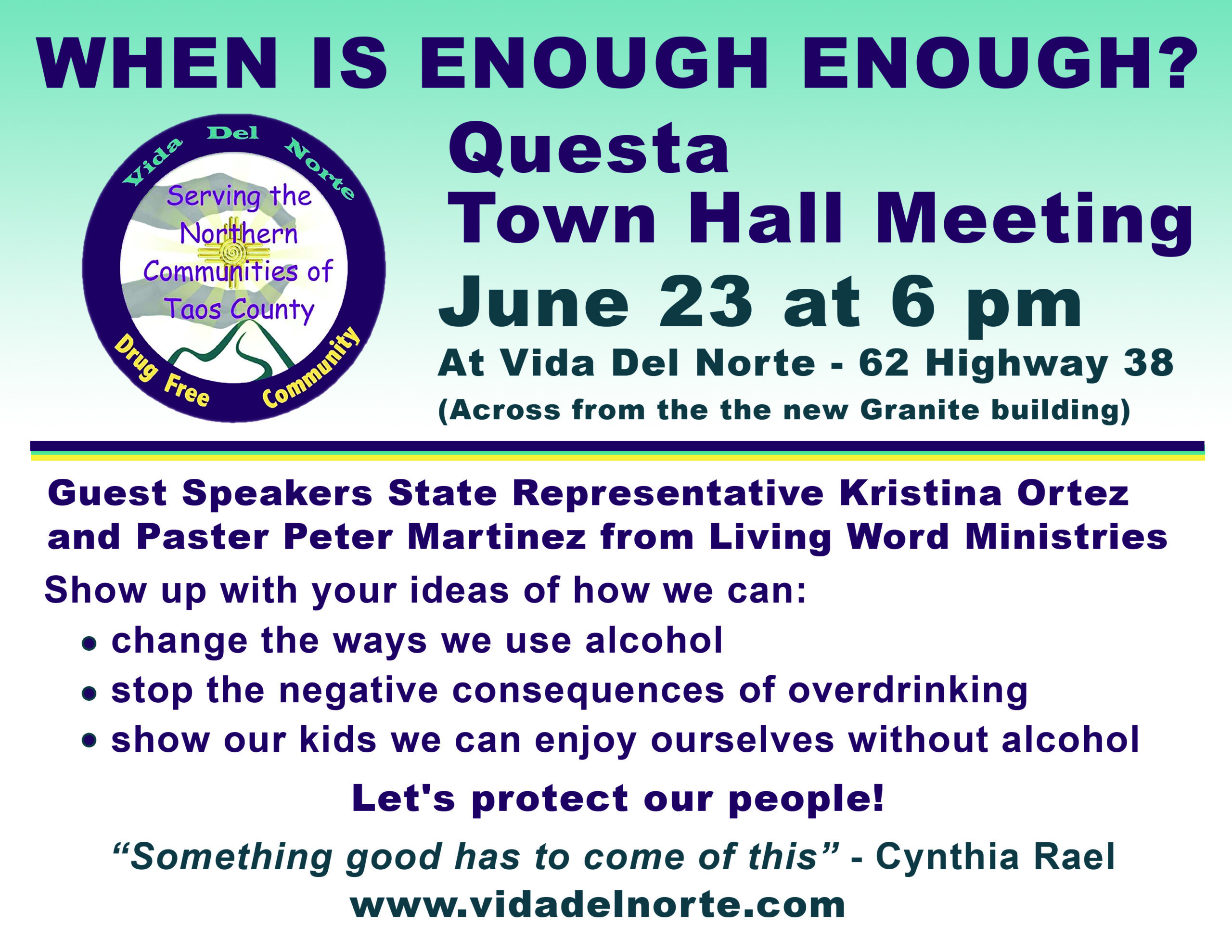 Vida Del Norte wants to share some of the events that they are helping to organize in Questa this summer. Put these dates on your calendar today to stay involved this summer and to have some safe alcohol and drug free fun.
Vida Town Hall Meeting
June 23 at 6pm at Vida Del Norte – 62 Highway 38
When is Enough Enough?
Show up with your ideas of how we can:
- change the ways we use alcohol
- stop the negative consequences of overdrinking
- show our kids we can enjoy ourselves without alcohol
Let's protect our people!
Guest Speakers State Representative Kristina Ortez and Paster Peter Martinez from Living Word Ministries
Community Connections Days
You may have already read about the Community Connection Days in the June Issue of the Questa Del Rio News. These are monthly days of service and celebration where community members of all ages work together on a project that helps to make Questa special. Collaborators helping to organize these events include: LEAP (Localogy), Vida del Norte Coalition, Taos Behavioral Health's SUCCESS youth program, Village of Questa, Trout Unlimited, and QEDF. Community Connection Days meet at 9 am with lunch served at 12:30.
On July 16 meet at Questa Municipal Park for a summer tree planting celebration and also a dedication ceremony where memorial plaques are placed by the newly planted trees. You can still dedicate a tree to a loved one for a donation of 100$. For more information visit:

www.vidadelnorte.com/parktrees

On August 20 meet at Eagle Rock Lake


On September 17 meet at the Questa Farmer's Market location by the Visitor's Center
Family Movie Nights
Vida Del Norte is hosting a family movie night every other Thursday starting on June 24th and continuing through the summer. These movie nights are going to be held outside of Vida Del Norte, 62 highway 38. Movies will start at dusk. To find out what movie will be playing visit www.vidadelnorte.com/movienights. Vida movie night dates are as follows:
June 24, July 8, July 22, August 5, August 19, September 2, September 16
Back To School Supply Giveaway – July 31
Packets of back to school supplies will be handed out from 10 am – 1 pm at Vida Del Norte, 62 Highway 38
Summer Music Fest Fundraiser for Skate park
Outdoor Music Fest to raise money for building a Skate park for the youth in the Questa Area.
Featuring live performances by local musicians the UZ Band and Mariachi Cielo. Tickets will be pre sold online at www.vidadelnorte.com or look for the Active8 youth selling paper tickets around town and at the gate on the day of the event. This event will be held at 64 Gallegos Rd across from the old La Cienega School and Gym. Gates open at 1:30, live music from 2-7. This is an all ages, alcohol free event. Kids get in free!
Police Appreciation Luncheon
Vida Del Norte has decided to host another Police Appreciation Luncheon this Fall to show gratitude to our local law enforcement and invite community members and officers to come together to share a meal and some conversation. This year Vida will be hosting the police appreciation luncheon on Friday October 29. This date falls during Red Ribbon Week which is a Drug, Alcohol and Tobacco prevention awareness campaign that happens annually in the United States. Red Ribbon Week is a perfect time to be thankful for the help that our local law enforcement does everyday to try and prevent substance misuse in our community.
Monthly Vida Del Norte Coalition Meetings
The monthly Vida Del Norte Coalition Meetings are open to the public and are a great time to find out what the coalition is up to and work with the community to come up with ways to prevent youth substance misuse. These meetings are at 6pm on the last Monday of the month and will now be held in person at Vida Del Norte, 62 Highway 38. People can also attend online via zoom at: https://us02web.zoom.us/j/85026030334.
Be on the lookout for fliers around town for these events and visit www.vidadelnorte.com/calendar to see if any other events come up during the summer. Also please visit us at Vida Del Norte or call Maria Gonzalez, the Coalition Coordinator at (575) 779-2260.