Hello from Vida Del Norte
We wanted to send everyone a quick end of the summer update to make sure that you all know about the Kids Matter Music Fest that is happening on Saturday August 21 from 2-7pm at 64 Gallegos Rd in Questa. There will be two local music groups playing: Mariachi Cielo and the UZ band. There will also be food and beverages for sale and free outdoor games. The National Guard is even coming with some activities like a totally awesome, inflatable obstacle course!
This music fest is going to be a fundraiser to help build a skate park for the youth in the Municipal Park in Questa. Tickets are $7 and KIDS GET IN FREE! The festival is also an opportunity to kick off Phase II of the Refuse to Provide Campaign that Vida has been working on with other local community organizations. The Refuse to Provide Campaign is an awareness campaign to stop people from providing alcohol to minors. Phase I of this campaign included putting up banners around Taos County and inviting people to sign a pledge to agree to not provide alcohol to minors. Phase II of this campaign is to "redefine the word party" and promote the idea that we do not need alcohol and drugs to have a good time. The Kids Matter Music Fest is going to be an alcohol and drug free event and Vida is asking that people do not bring in outside food or beverages.
To find out more about the bands playing at the music fest or to purchase tickets online please visit:
www.vidadelnorte.com/kidsmatter
Please help us to promote this event online by sharing the Facebook event link: https://fb.me/e/2wzW3RwDT
To find out more about the Refuse to Provide campaign and to sign the pledge please visit:
www.taosalive.org/refuse
Donate Baked Goods to Help with the Kids Matter Fundraiser
If anyone would like to donate any baked goods to sell at the music fest you can contact Maria the Coalition Coordinator at: (575) 779-2260 . Baking goods at home that are going to be sold is now legal thanks to the Homemade Food Act that went into effect in July. If you are able to donate baked goods please read and follow the simple guidelines of the Homemade Food Act that can be found here: www.env.nm.gov/foodprogram/homemadefood/
Other Ongoing Events at Vida
We also want to make sure that you all know that we are having Family Movie Night every Thursday outside of the Vida Del Norte space at 62 Highway 38 in Questa.  Screen time is at dusk which is a little after 8. Popcorn, Soda and Water will be available. You can visit www.vidadelnorte.com/movienight to see what the upcoming show will be.  Please be aware that movies may be pg-13.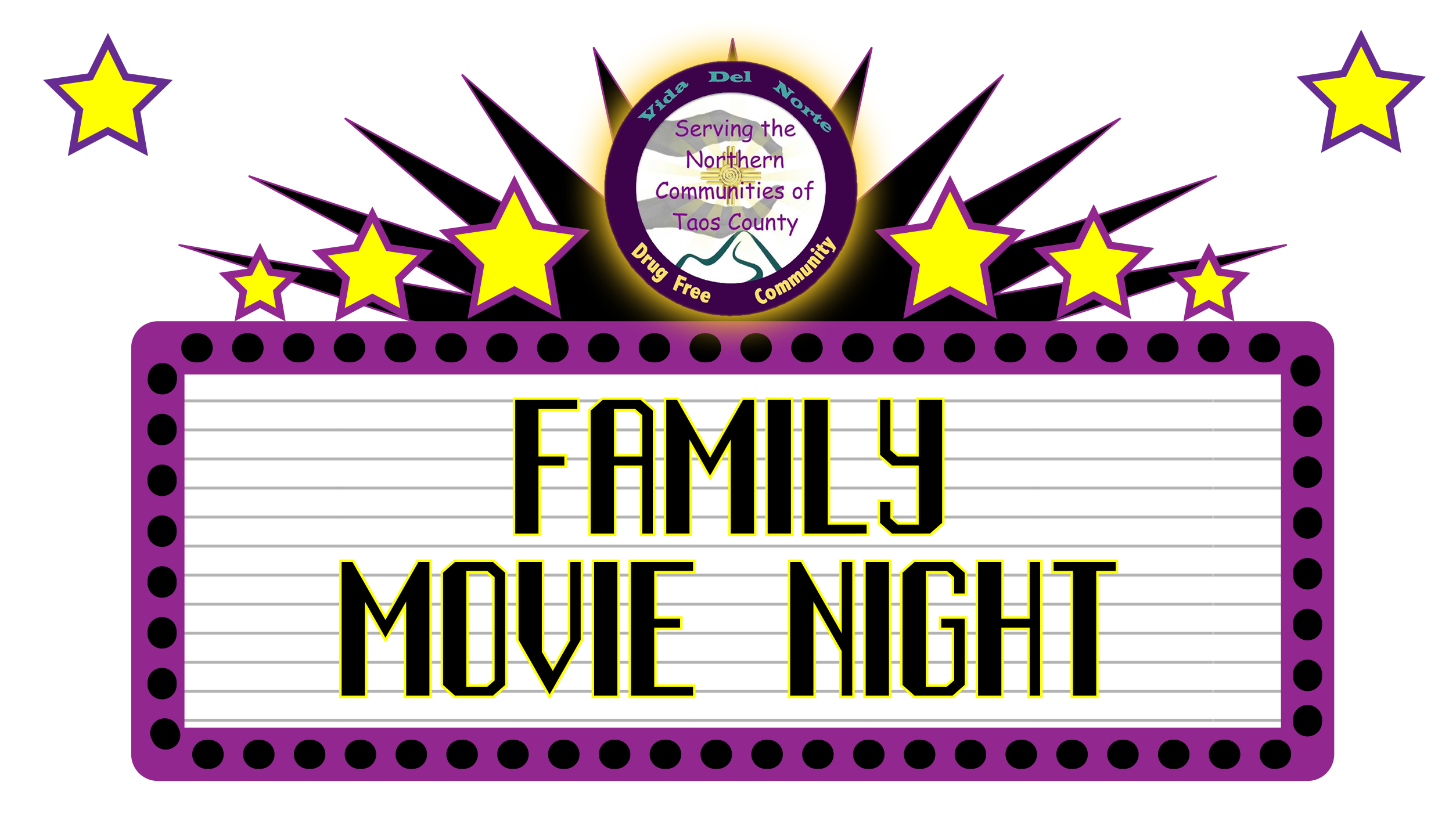 Teen Night, Fridays at Vida
Vida is now also hosting Teen Night, Fridays from 7-10:30. Teen Night is also at the Vida space, 62 Highway 38 in Questa. Youth ages 11-18 are welcome. Vida has Vollyball and Corn hole. Other activities include having a bonfire and making smores, dj our sound system, socializing with friends and other games.
WE ARE ACCEPTING DONATIONS OF GAMES OR ARTS AND CRAFT SUPPLIES to help make Teen Night more fun and engaging. If you have anything to donate you can bring it by the Vida space or call Maria @ (575) 779-2260. Thanks!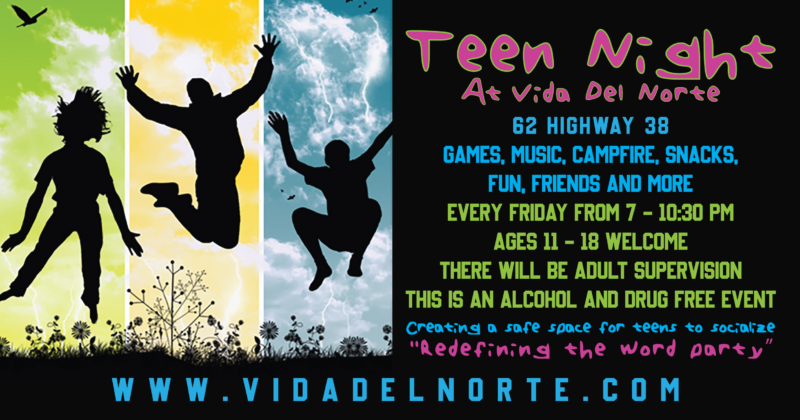 Join Vida Del Norte!
You can get more involved in the work that Vida does and in helping to prevent youth substance misuse in northern Taos County by joining the Vida Del Norte Coalition. One way to join Vida is to attend the monthly coalition meetings on the last Monday of every month at 6 pm. If you can not attend the monthly meetings you can still join our efforts and show support in other ways. Contact the Coalition Coordinator Maria Gonzalez at (575) 779-2260 to find out more.
This month the Coalition Meeting will be on Monday, August 30th at 6 pm. This meeting will be held in person at the Vida space, 62 Highway 38 in Questa and also on Zoom.
Here is the Zoom link and ID for the meeting:
https://us02web.zoom.us/j/8578620293
or the Meeting ID: 857 862 0293
Donate to Vida Del Norte Today!
If you would like to help prevent youth substance misuse in northern Taos County by giving a tax deductible donation to Vida Del Norte today then click the button below. Thank You All and enjoy the rest of your summer!