The Vida Del Norte Coalition is a group created to prevent substance abuse among Northern Taos County's youth.
Please join us to stay informed!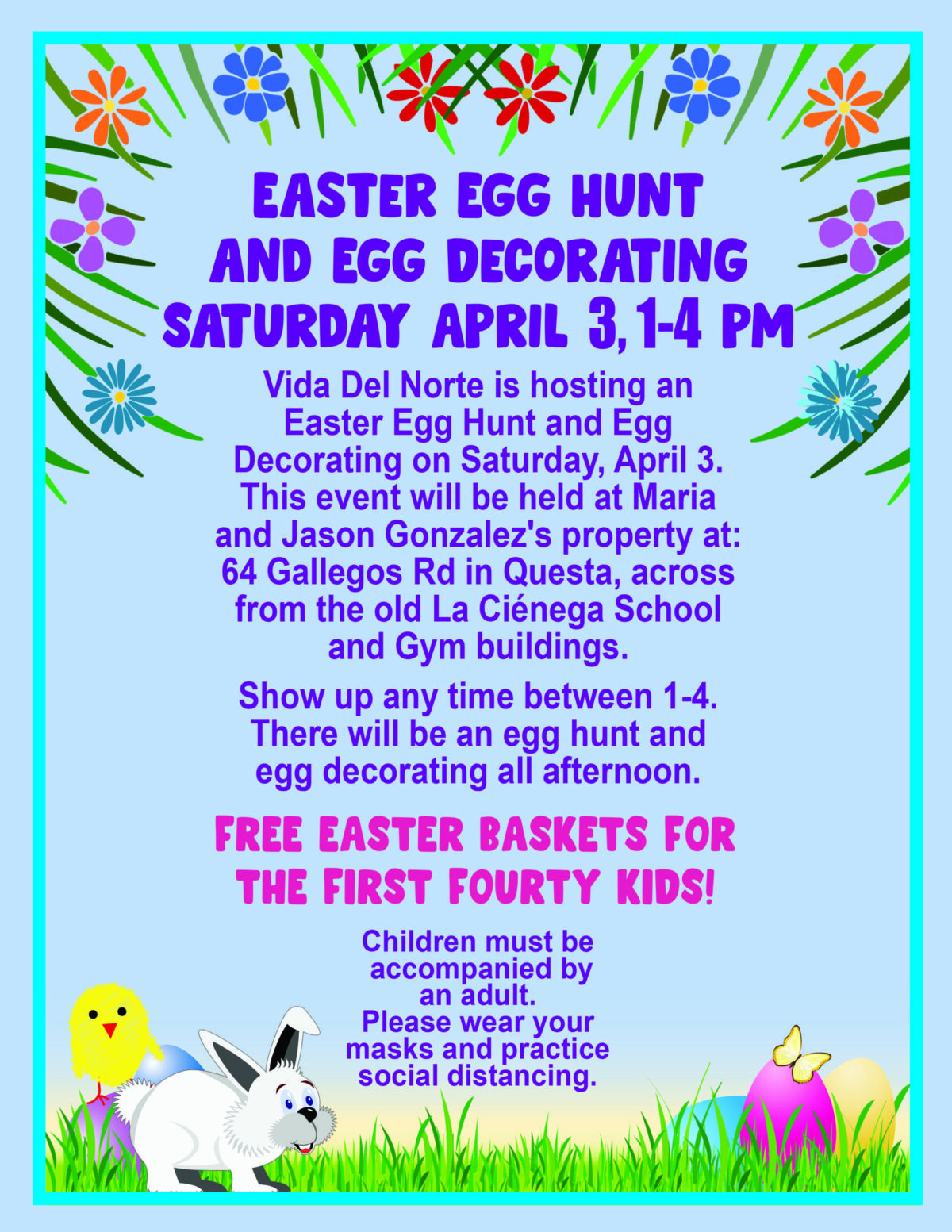 Come to the Vida Del Norte Easter Egg Hunt on April 3 from 1-4 pm.
It will be held in Questa on the property that is across from the old La Ciénega School and Gym buildings which are down Gallegos rd (Gallegos rd is right across from the thrift store that is next to the Post Office.)
There will be free Easter Baskets for the first 40 kids to come!
To help maintain social distancing we are going to ask that kids only hunt for 12 eggs. We will also have tables set up for egg decorating so that some kids can decorate eggs while other kids hunt so that people can spread out more.
EVERYONE IS WELCOME!
If you have any questions about the hunt you can call Maria Gonzalez, Coalition Coordinator at: (575) 779-2260.
If you would like to make a donation so that Vida Del Norte can continue to organize fun alcohol and drug free activities please click the button below. Thank You!
Vida del Norte was formed as part of the solution for keeping our Northern Taos County's children drug-free.
Vida Del Norte Drug Free Community Coalition is funded through a 5-year federal Drug Free Communities Grant.
DFC Program is based on the philosophy that local drug problems require local solutions. Recent evaluation data indicate that where DFC dollars are invested, youth substance use is lower. Over the life of the DFC Program, youth living in DFC communities have experienced reductions in alcohol, tobacco, and marijuana use.
We provide a Youth Sector, a Parent Sector, a Business Sector, a Media Sector, a School Sector, Youth Serving Organization Sector, Law Enforcement Sector, Religious/Fraternal Organization Sector, Civic/Volunteer Group Sector, Healthcare Professional Sector, Government Sector, as well as Other Organizations in Reducing Substance Abuse .
Click here for more information.