Vida Del Norte wishes everyone a (slightly belated) Happy 2021!
We have not published a Newsletter since last summer so there is a lot to include in this issue. Amidst all of the difficulties of this past year, Vida Del Norte has kept moving forward with the effort of preventing substance misuse in the youth and our communities. Together with the help and support of our coalition and community members we have accomplished very good work during this difficult time.
Botvin LifeSkills Curriculum


This school year, starting in August, Vida Del Norte was invited to participate in teaching a Life Skills class in the Questa Schools. Our coalition coordinatior, Maria Gonzalez has been trained to teach Botvin LifeSkills and has been volunteering her time to incorporate that into the curriculum in Questa.
The Botvin LifeSkills Training program is a groundbreaking substance abuse and violence prevention program based on more than 35 years of rigorous scientific research. Proven to be the most effective evidence-based program used in schools today, LifeSkills Training is comprehensive, dynamic, and developmentally designed to promote mental health and positive youth development. In addition to helping kids resist drug, alcohol, and tobacco use, the LifeSkills Training program also effectively supports the reduction of violence and other high-risk behaviors. 1

Vida Del Norte has been excited to be able to collaborate with the Questa Schools to bring the Botvin LifeSkills Curriculum to the students. Vida is currently seeking an intern to receive the Botvin LifeSkills Training and funding to eventually turn this into a full-time position so that we can reach more students with this prevention program. If you or someone you know might be a good fit for this internship position please call Maria at: 575) 779-2260 or email her at: Maria.Gonzalez@VidaDelNorte.com.
Reference Source:
1 https://www.lifeskillstraining.com/botvin-lifeskills-training-middle-school-program/
Movie Night Under the Stars
As the summer came to a close and social distancing became a very real part of all of our lives, Vida Del Norte wanted to do some things to bring the community together in a safe way outdoors in an alcohol, drug free environment. We decided to start hosting a weekly, outdoor movie night. We hoped people would enjoy some time out of the house. We were able to host a number of movie nights before it got too cold. It was great to see all of the families and community members that got bundled up to come out and watch movies under the moon and the stars. We want to give a special thanks to the Village Stop and Go for letting us borrow their popcorn machine and giving us popcorn bags and butter, the Montecarlo for giving us popcorn and all of the local businesses who continually let us put up flyers for our events.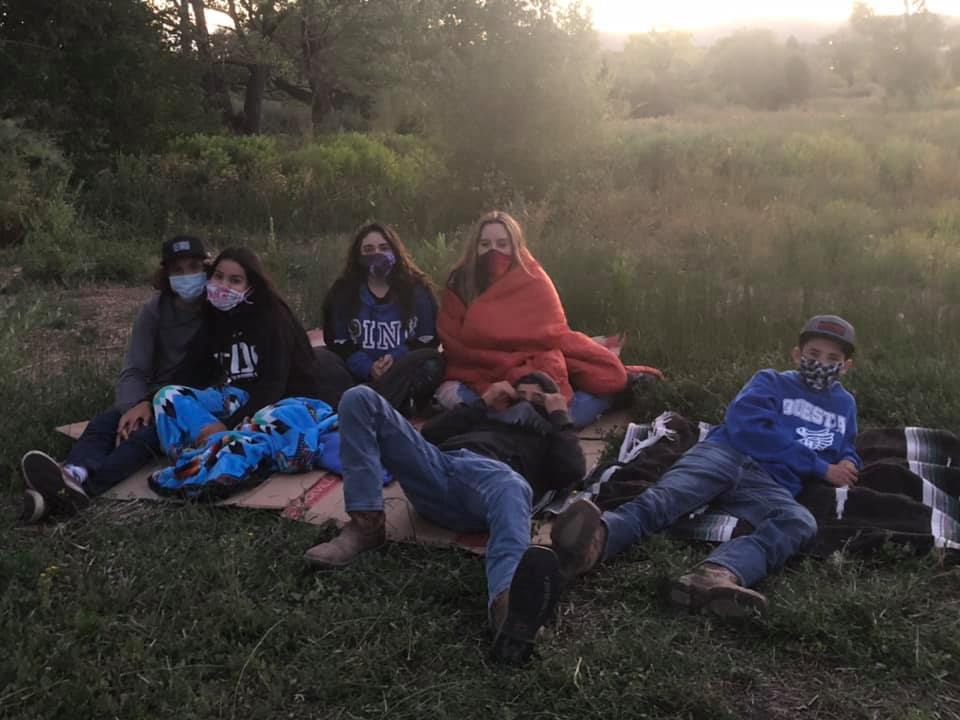 Outdoor Vida Town Hall
On September 17th, before one of our movie nights, Vida hosted an outdoor Town Hall meeting to discuss the data that was reported in the Youth Risk and Resiliency Survey that was conducted in the Questa schools. This survey assesses the number of students who use tobacco, alcohol, marijuana and prescription drugs without a prescription. The survey also assesses the perception of risk and perception of parental disapproval in students in regards to using these substances. The Vida coalition thinks that it is important to share this data with the community. The number of kids using these substances is higher in Questa then in the rest of Taos County and it is also higher then in the rest of the country.
You can see the entire results of this survey by visiting www.vidadelnorte.com/data .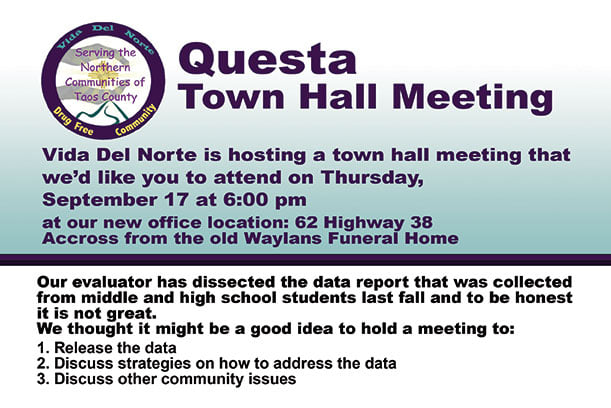 Police Appreciation Luncheon
On October 7th, Vida hosted a Police Appreciation Luncheon to show out support to our Law Enforcement Officers. Party On Rentals in Questa provided the tent, tables and chairs for this event and had their staff drop them off and set everything up. Tia's Cafe in Cerro provided the delicious food and Rael's Market donated coffee. Members of the Coalition and Active8 helped to set everything up, decorate and serve food. It was a fun afternoon for everyone who attended. Just about the entire Taos County Sheriff Department dropped by as well as some other officers. At the luncheon the youth members of Active8 presented the officers with a brochure that included some of the data about substance use with the youth in the Questa community. The officers commented that they were surprised at how high the numbers are and agreed that this something that they would like to help the community address. The luncheon gave the community and the members of Vida Del Norte an opportunity to thank our local law enforcement for their support as well as discuss concerns with them. The officers who attended were reassuring of their continued support in our area.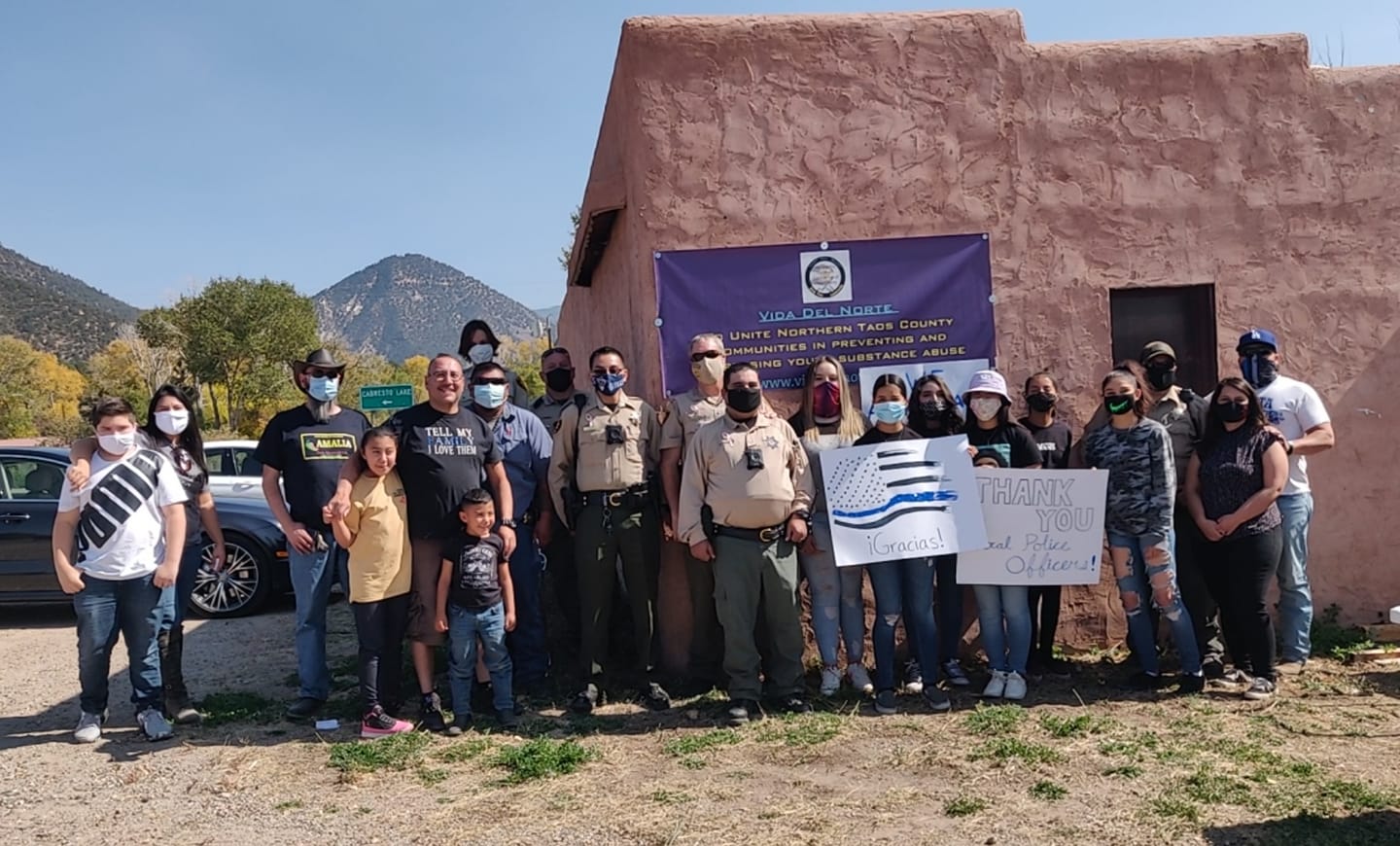 Red Ribbon Week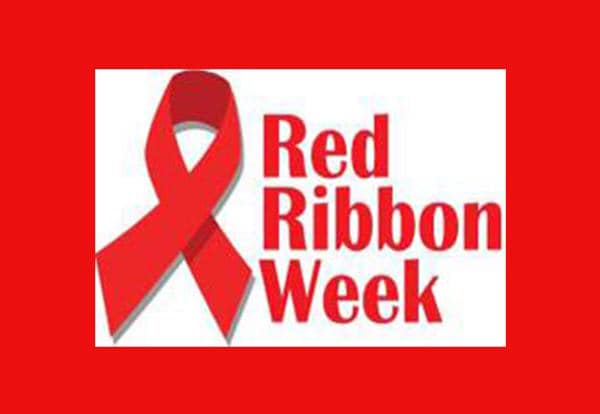 Vida kicked off Red Ribbon Week this October by collaborating with Harvest Questa and the Questa Independent School District to mail out red ribbons to all of the students. A distribution site was also set up on October 23 at Rael's Market to distribute Prevention bags and Red Ribbons, while the Active 8 youth painted the town red with drug free messaging.
Trick-or-Treat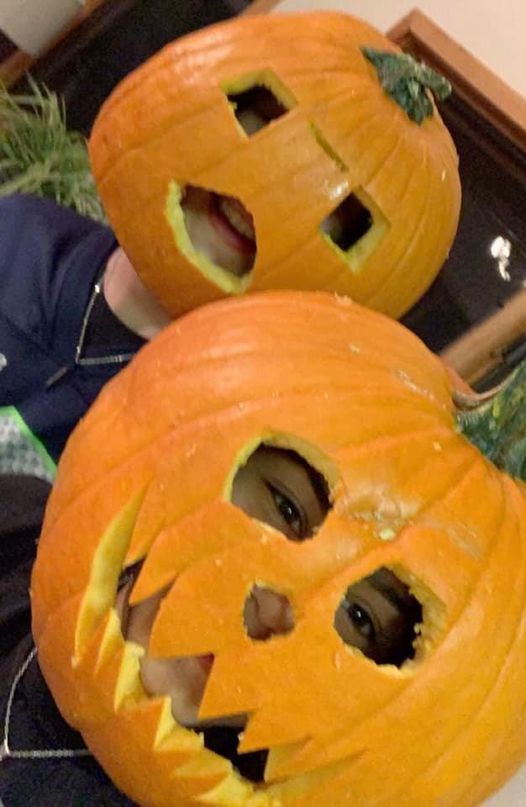 For Halloween Vida held a Virtual Pumpkin Carving Contest to encourage youth and and families to do something fun while spreading the #carveoutdrugs hashtag on social media. In the evening, Rachel and Maria handed out treat bags with prevention messaging to people doing drive by trick-or-treating. So many people still dressed up to have fun on Halloween.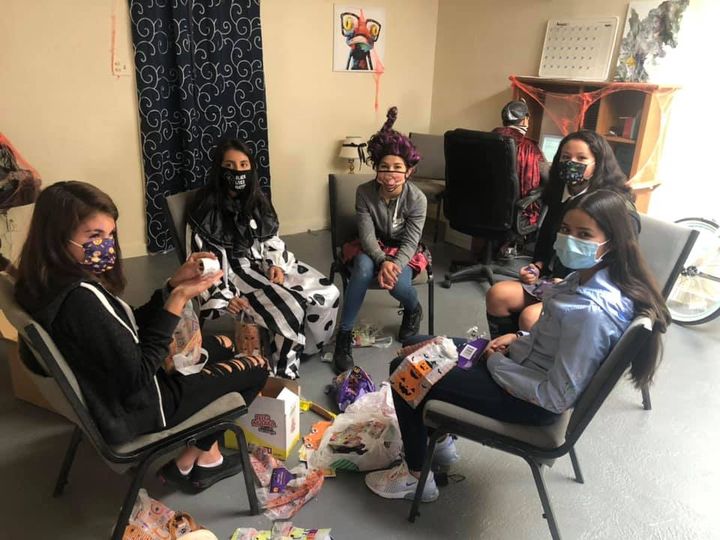 Members of Active8 putting together Trick-or-Treat bags with prevention messages and treats inside
Coffee and Conversation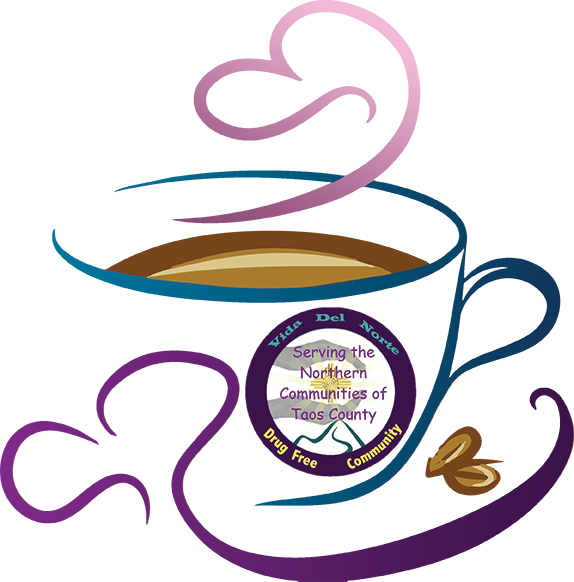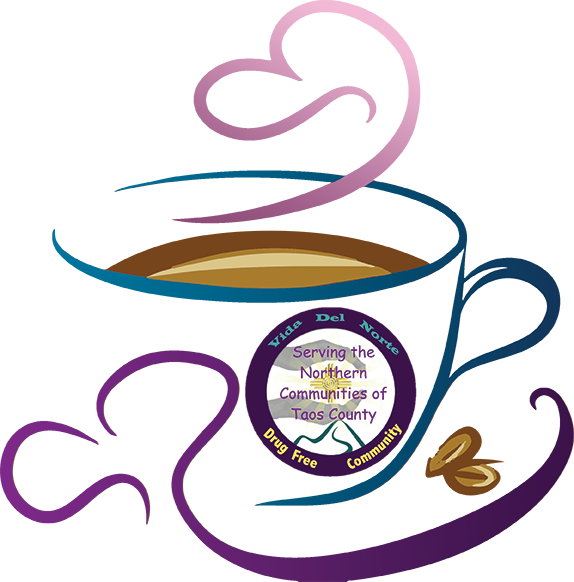 In November, Maria launched the Coffee and Conversation series. These are virtual conversations hosted on both Zoom and Facebook Live that Maria opens up to the community to discuss important issues relating to prevention, recovery and well-being. Maria has been hosting these conversations twice a week on Monday and Friday at 9:30 a.m. She tries to bring on a special guest in as many of these conversations as she can. Coffee and Conversation continues to be a great opportunity for the community to engage with each other in dialogue about these important issues and we hope that you all will get a chance to tune in to participate in the conversation. You can view the past videos on Vida's Facebook feed: https://www.facebook.com/vidadelnortecoalition. An archive of the videos is also being compiled on the Vida website: https://vidadelnorte.com/conversation/
Vida Online Auction
Vida also started hosting their first Online Fundraising Auction in the fall to raise money to turn the Vida space into a safe and fun environment for youth and the community. Lots of people donated items for the Auction and bidding took place until right before Christmas. Vida is so grateful to everyone who made a donation, placed a bid and helped spread the word to help make this fundraiser a success. Soon we will be able to gather again in safe ways and have some fun activities for the community at the Vida space with the money that was raised.


Meetings to Plan a Mentorship Program
In November some members of the coalition and the community started meeting on Zoom to discuss how to start a mentorship program and also provide more activities for the youth in the area. These meetings are still happening and these ideas are still developing. Vida would like to encourage everyone in the community to join in on this conversation. If you want to find out when the next mentorship planning meeting is happening please call Maria at: (575) 779-2260 or email her at: Maria.Gonzalez@VidaDelNorte.com
Sharing our Space
For a few months this fall Vida was able to share the Vida space with Taos Behavioral Health who started offering a tutoring and support program to the youth in Northern Taos County. This program had to move onto a virtual platform because of social-distancing precautions. If you want to find out more about the services that Taos Behavioral Health offers to Youth and Families in Taos County you can visit https://taosbehavioralhealth.org/ or call them at 575-758-4297.
YOGA SALA IS NOW OFFERING CLASSES AND WORKSHOPS ONLINE AND IN PERSON

Yoga Sala offers moving arts classes – kids ballet and dance, yoga, qigong, tai chi, zumba and also hosts fun and creative workshops and activities.
Visit the Yoga Sala Website to see the schedule of classes, events and workshops. You can sign up for just one class or for many. Yoga Sala is also currently offering free classes for youth.
Holiday Lights !
In December Vida joined together with the Village of Questa and community volunteers to decorate the center of the village for the holidays. Some of the Active8 youth showed up to help and we were blessed with wonderful weather to be out there. Thank you to everyone who came together to help make the village more festive for the community during the holiday. It looked beautiful!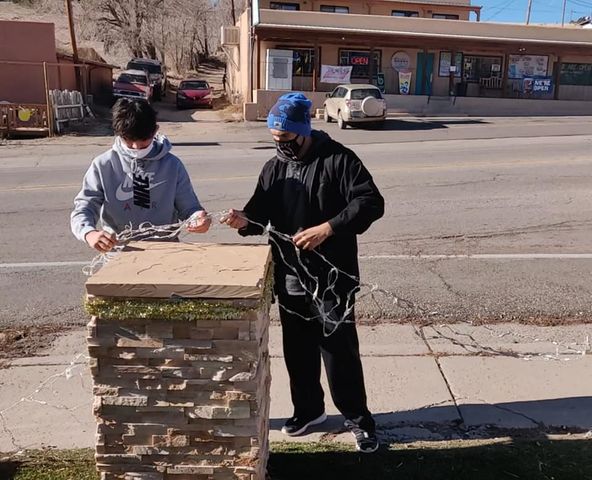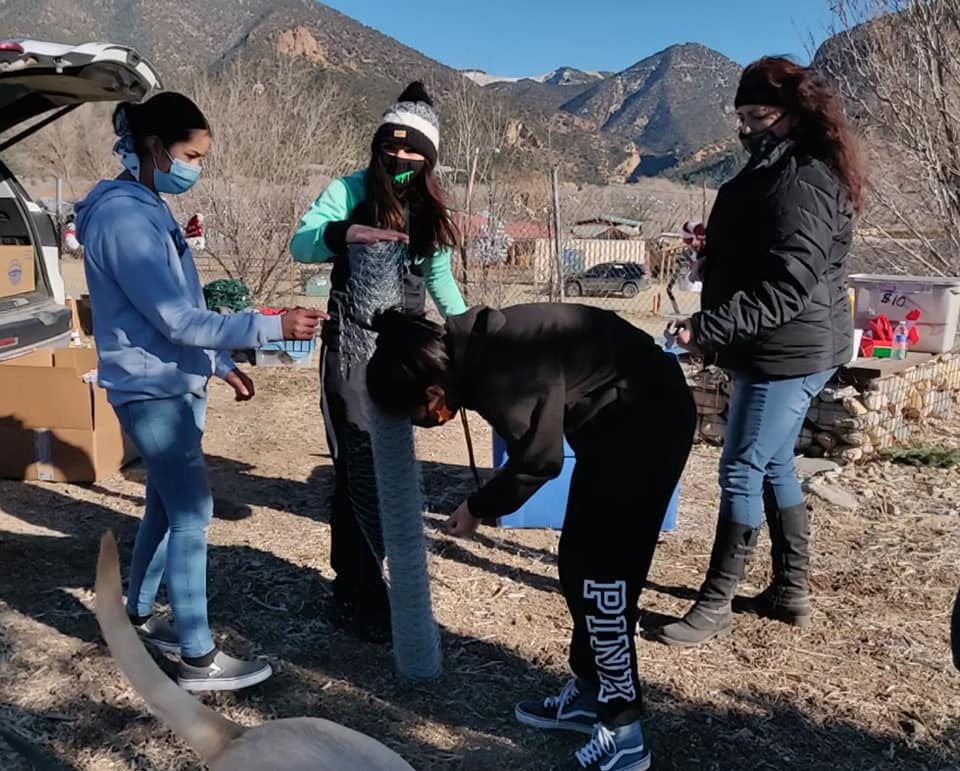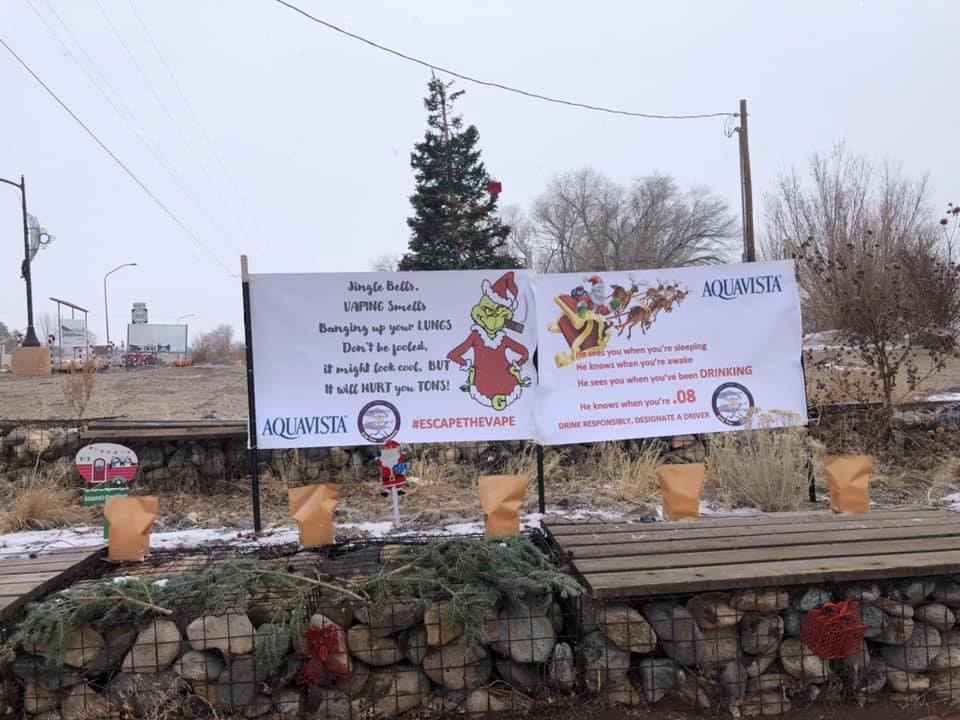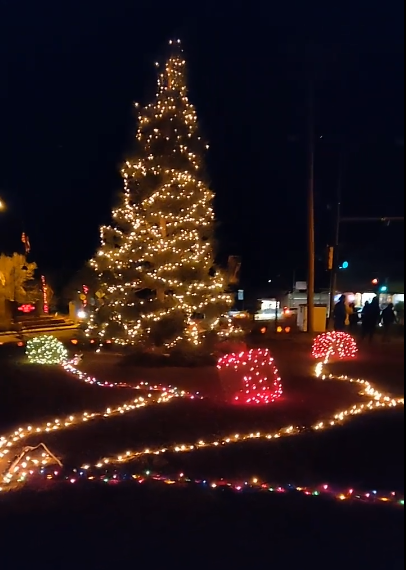 That brought us to the end of 2020 and the beginning of 2021! It was not an easy year but the community still came together and that made things easier.