By RACHEL KUC'
Published in the August 2020 Edition of the Questa News
(pg 20)
Read the entire August 2020 edition of the Questa News
For August we honor the members of the Active8 Youth Group as Volunteers of the Month. The Active8 are associated with the Vida Del Norte Coalition and are an instrumental part of it. We thank them for all their hard work this summer in the Questa community. Their involvement is crucial to the work of the Vida Del Norte Coalition to try to prevent substance abuse in our community. Volunteering is a great way to give back and help strengthen our community while bringing us closer together. It can also be very empowering and educational. The members of Active8 are working hard to help make our community and the world a better place and we want to thank them for all that they do and for being wonderful, unique, and caring individuals.
NORTH CENTRAL FOOD PANTRY
Some of the Active8 members volunteer at the North Central Food Pantry, helping to pack up and distribute food. The pandemic has added a strain to operations since food must be packed up and brought out to cars to maintain social distancing. "We love having them! Some of these young ladies work inside loading the boxes, and some load them on the vehicles as they drive through," says Jeannie Masters at the Food Pantry.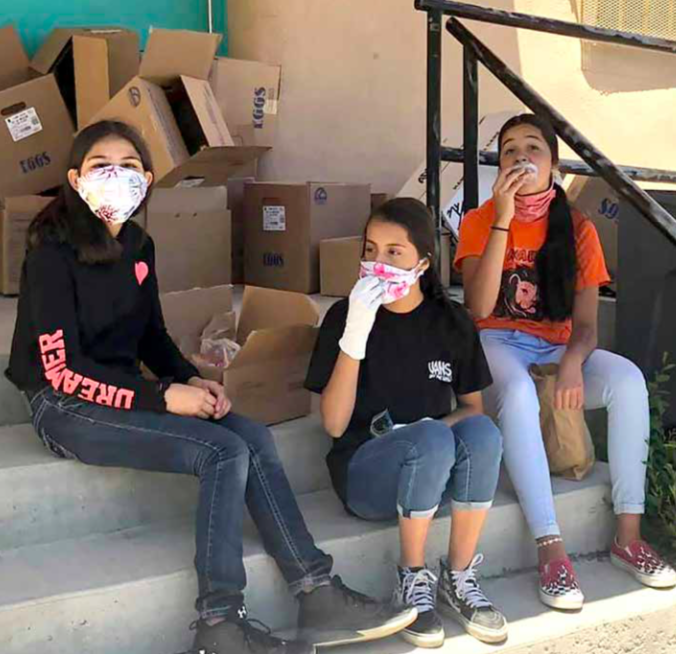 Photo by Rachel Kuc
Active8 members of the Vida del Norte Coalition volunteer at the North Central New Mexico Food Pantry. From left is Ashlynn Rael, Alianna (Booboo)
Gonzales in the middle, and Amalia Gonzales on the right.
Kate Cisneros is also thrilled to have the volunteers help at the Food Pantry, "It's really nice because they learn what it is to give out and not receive. That's my whole thing, to teach them that it's a lot of work, but we are doing it because we want to help the public, the community,"
Angelica Lovato, a 16-year-old from Questa, comments, "It has been cool
to help out in our community a little more. I think we definitely need that.
I think we have kind of separated and
I wish that we could get back closer together like it used to be. I've always liked helping people but it is definitely in a different light when you are helping people you don't know… You don't know what they are going through or if they are struggling. It makes you want to do more."
Ashlynn Rael, age 13, said, "It's been fun, it gets me out of the house, helping other people." Another Questa 13-year- old, Alianna (Booboo) Gonzales, said, "It's good to help around with stuff for people who can't do it by themselves.
It feels good to volunteer for people." She also said her favorite thing about the Food Pantry is that the ladies over there are funny!
The North Central Food Pantry distributes food on the second and fourth Friday of each month from 11 am – 2 pm. You can find more information
and directions at www.ncfpquesta.com. You can also make donations on their website, which are always welcome and appreciated!
QUESTA FARMERS MARKET
Three of the Active8 members have paid internships at the Questa Farmer's Market this summer: Kaylee Piper, Amalia Gonzalez, and Booboo Gonzalez. It is impressive to see how hard the interns are working, how engaged they are, and how well they work together and with the community. Booboo Gonzales is motivated to get out of bed on Sundays, she says, "I can at least go somewhere instead of doing nothing!" Sometimes staying in bed is wonderful and we all need our rest. It's a good thing for us all to remember that there are always plenty of ways we can help out in our community if we decide to get out of the house and out of our comfort zones.
Young people, please consider joining the Active8 group! It's a great way to get more involved in your community, express opinions, learn about the dangers of substance abuse, or just have something to do to get out of the house  and it is very empowering. Parents or youth can find out more about joining Active8 and the Vida Del Norte Coalition by calling director Maria Gonzales at
(575) 779-2260 or by visiting the website at vidadelnorte.com