By RACHEL KUC'
Published in the December 2020 edition of the Questa News (pg 20)
Read the entire December 2020 edition of the Questa News
Vida Del Norte Coalition has been engaging with the youth in our community to see what they think would help them keep themselves and their peers from misusing substances. They wish they had a safe drug and alcohol-free place where they could be together, work on homework, play games, get creative, and just hang out.
Creating a safe place for youth can help protect them from the factors which cause them to be at risk for misusing substances. A safe place also provides them with opportunities to learn life skills through interactive engagement. Vida Del Norte wants to transform the new location they now have in Questa into a center that can be used by the youth, as well as continue to host activities for the community.
The Coalition is launching "The Sober Sight," a fundraising campaign, through December 21 to raise money to transform their new office space into a safe environment for the youth and the community. They are hosting an online auction with great gifts for the holidays donated by local businesses and artists. You can also make a donation to this fundraising campaign without purchasing an item on the auction. Visit www.vidadelnorte.com/auction today to place your bids or make a donation.
It is also not too late to make a tax deductible donation of an item to the Vida Auction, you can contact Maria Gonzalez, Coalition Coordinator at (575) 779-2260. Vida Del Norte wants to thank everyone for helping to prevent substance misuse in our communities. Together we can reduce the risk and influence of drugs and alcohol on our youth.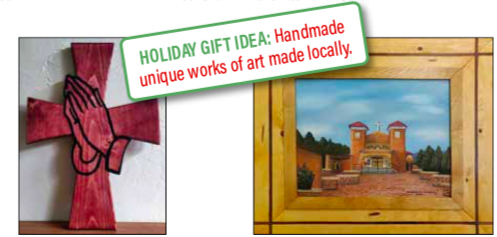 Left: Praying Hands Cross made of Ponderosa Pine Wood by local artist George Vigil
Right: Original Oil Painting of St. Anthony Church in Questa, NM by Michelle Samantha Martinez
Youth Risk and Resiliency Survey
Once every two years, the Vida Del Norte Coalition in Questa conducts a Youth Risk and Resiliency Survey to assess the risk of substance misuse for
the youth in our community. After the survey is completed the data are published in a report. The results of the last survey in 2019 are alarming. According to this survey, 59% of youth in high school drank
alcohol at least once in the 30 days prior to the survey, 68.1% had used tobacco products, 48.9% had used marijuana and 29.8% had used prescription drugs that were not prescribed to them. These percentages are higher than the national averages. Please visit www.vidadelnorte.com/data if you would like to see the full report, with complete from the Youth Risk and Resiliency Survey.