---
This fundraiser is to plant memorial trees in the Questa Municipal Park.
A project of Vida del Norte, LEAP (Localogy) and the Village of Questa
More info: 575-635-2934

"The best time to plant a tree was 20 years ago,
but the second best time is now!" – Chinese Proverb
This fundraiser was first launched to raise money for a community park cleanup day on April 23 in celebration of Earth Day. The park cleanup day was organized by LEAP (Land, Experience and Art of Place) in collaboration with the Vida del Norte Coalition, Questa Public Library, Village of Questa, Taos Behavioral Health and other community volunteers and organizations. During the park cleanup day trees were planted in the Municipal Park and people who made a donation of $100 will have a memorial plaque placed by one of the new trees with a dedication of their choosing. During the park clean up day, enough money was raised by this fundraiser to plant 7 trees with plaques. Participants enjoyed the park cleanup day so much that it manifested into something called Community Connection Days. These will be monthly intergenerational days of service and celebration where the community can work together on some project in the Questa area like cleaning up a park. There is still a lot of room in the Municipal Park for more memorial trees. This fundraiser will continue to raise more money to plant trees and buy dedication plaques. On May 21st and July 16th there will be Community Connection Days at the Municipal Park. During the Community Connection Days on May 21st and July 16th more trees will be planted in the park. On July 16th, the dedication plaques will be placed under the trees.

Donate $100 to sponsor a tree in honor of a loved one to plant in the park. We will create a permanent plaque to go by your tree with a dedication of your choosing. If you donate $100 to sponsor a tree you can create your dedication by using the form to the right or you can download a PDF version of this form here. Click the orange donation button to the right to go to our fundraising site and make a donation of any amount! Donations of $100 will plant a tree with a donation plaque. Donations of less then $100 will provide overall support for the tree planting project and help to buy other supplies to get other park improvement projects done.
You can donate any amount today by credit card by clicking the orange donate button on this page or send a check to:
P.O. Box 1015 168 Cabresto rd Questa NM Attn Maria Gonzalez
You can also drop off a check at the Questa Credit Union.
Please make checks payable to Vida Del Norte and write a memo on the check that it is for the tree project.

The Questa Municipal Park we enjoy today exists in large part due to the vision and diligence of the Playground Superheroes Project, a group of eight Questa High School student interns who were hired through a work-study program
in 2013-14. These motivated students helped transform the Questa Municipal Park with help from the Chevron Questa Mine, Community Build, and the Questa Economic Development Fund.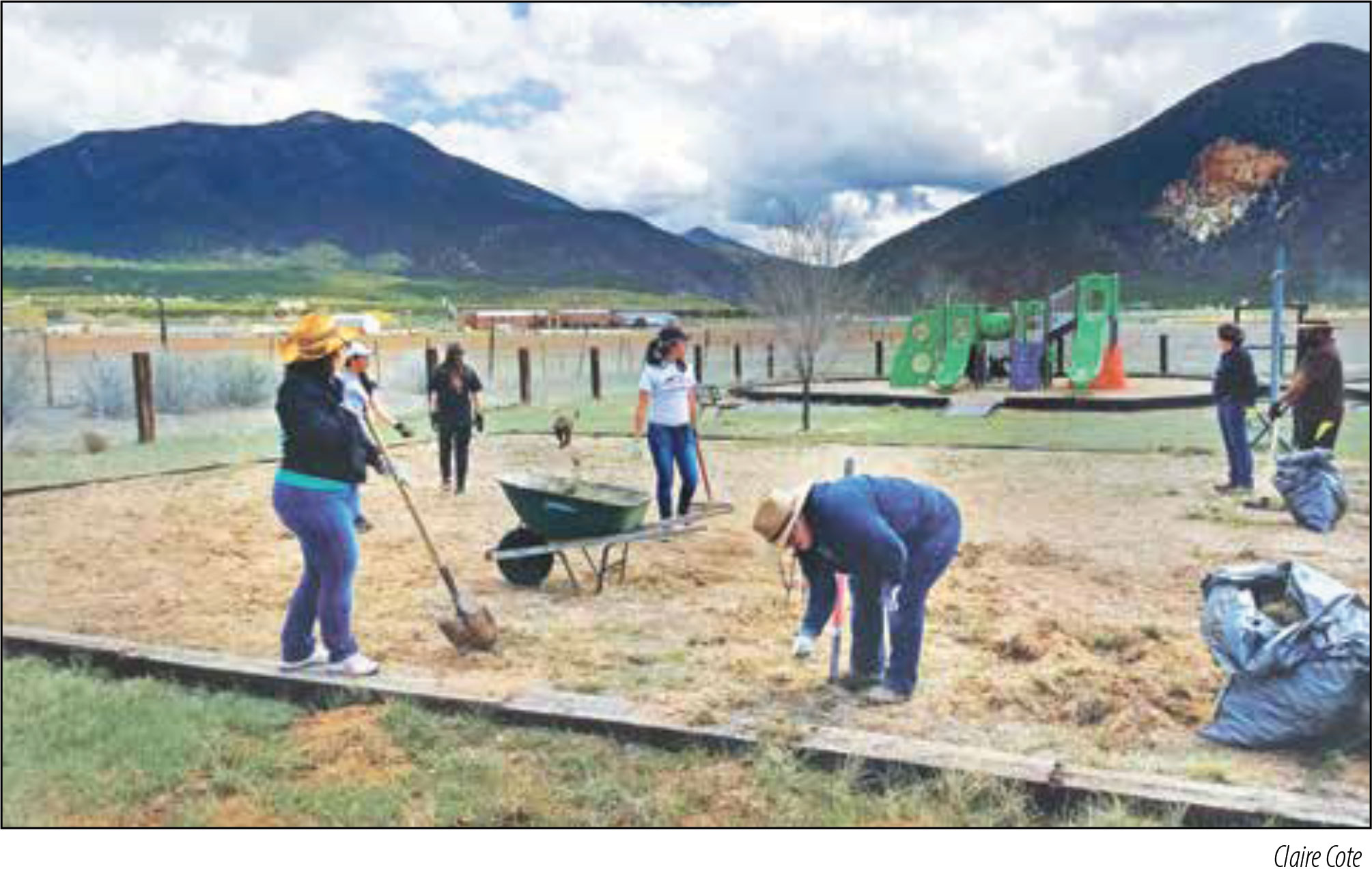 ---