By MARY FLORES, MARIA GONZALEZ, RACHEL KUC'
Published in July 2020 in the Questa News (pg 22)
View the entire July 2020 edition of the Questa News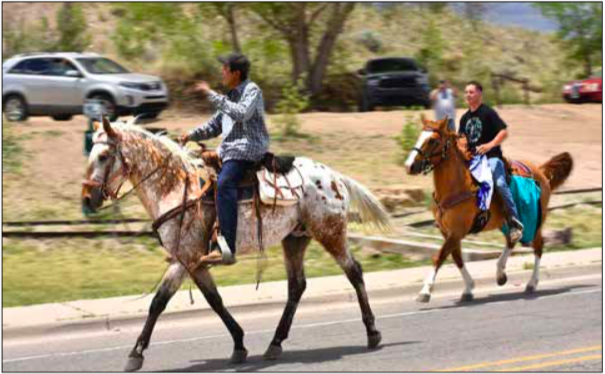 Photo by Amy Vialpando
Senior Parade: There may not have been a graduation ceremony but QHS Class of 2020 got a Senior Parade! Organized by Maria Gonzalez and Mary Flores, the parade was held on May 30th. Pictured above are George Rael and John Martinez who rode their horses among the floats.
On May 30, the parade honoring our 2020 Questa High School seniors was a success. Organized and planned by Maria Gonzalez and Mary Flores, it was important to show these great young adults that the community cares for them and that they are not forgotten during this COVID-19 pandemic.
These 2020 seniors, like so many others, lost out on the last months of the best times together that they will never get back. Graduation, Senior Night, and Prom are a special time in their lives that were replaced by the world of computerized virtual ceremonies that are not heartfelt or personal. "I commend the Class of 2020 from Questa High School for their hard work and commitment in getting their diplomas," said Mary Flores.
On this beautiful day in May, Highway 522 was filled with people all along the sides cheering and waving to the graduates as they paraded through Questa on their decorated vehicles. While they drove past the stoplight near Rael's Market, their names were announced by Mr. Michael Rael Sr,. and recognized for their accomplishments. The smiles on their faces were priceless, giving us that vision of hope that these young men and women will do great things as they venture on their own journeys.
This community event was a collaboration between Questa Class of 2020 senior parents, Vida Del Norte Drug-Free Coalition, The Village of Questa, Questa and Cerro EMS, Taos County Sheriff 's Office, Harvest Questa, Living Word Ministries, and other community members.
Vida
 Del Norte Coalition thanks all who helped make this event possible.
The graduation parade was live streamed, and the video is up on the Vida Del Norte website for those who could not see it
 in person.  More photos and the video
 can also be viewed online at vidadelnorte.com/2020-senior-album and also on our Facebook and Instagram pages: facebook.com/vidadelnortecoalition, instagram.com/vidadelnorte.